News from St Etheldreda's
Thought for the Week
Posted April 30, 2013
We Christians must recognize selfless, sacrificial love, wherever it occurs, and stand in awe of it, thank God for it, for it is Christ at work in humanity, in ways unknown to us.  To acknowledge the presence of Christ in people who are not Christians will make us humble.  Hopefully it will make us self-critical.  Perhaps it will shame us.  Perhaps it will make us understand what St Augustine meant when he remarked: 'How many sheep there are outside! And how many wolves within!'  Perhaps it will help us to keep, or to regain, a sense of proportion about the various aspects of our own religious practice, and save us from self-deception.  It will remind us about the essence of our own religion.  And last but not least, it will help to make of our religion a unifying force in a world where religion only divides, when it is without love.
---
Welcome to our new organist
Posted December 5, 2012
Welcome to Robert Patterson, our new organist.
Robert comes to us with a distinguished record. He was organ scholar at Peterhouse, Cambridge and then at York Minster, and subsequently progressed to various posts including periods as assistant director of music / assistant organist at Hampton Court Palace, New College, Oxford and Canterbury Cathedral, to name but a few of his achievements.  We wish him a happy and rewarding experience at St Etheldreda's.
---
Thought for the Week
Posted December 1, 2012
St Peter, in his Second Epistle, urges his fellow Christians to keep their minds fixed on God's promise.  "You will do well to be attentive to it", he writes, "as to a lamp shining in a dark place, until the day dawns and the star of morning rises in your hearts."  May our Holy Communion today unite us more closely with Jesus, our Lord.  He knows very well what it is like to be in a dark place; and he wants us to be with him where he is now, in the radiance of God's glory.
---
Thought for the Week
Posted November 30, 2012
Glorify God in everything you use and touch and handle; glorify God in your teaching and your nursing and your cooking; glorify God in your physical faculties, in your brains and your vocal chords and the daily things you utter: for they have the potential for God's beauty and grandeur, as charcoal is converted into diamonds and crude minerals become a cathedral.  Glorify God in all those things, so that you may share in the work of the very God who created the world, and created it with a single end in view: to fill it with the glory of the risen Christ.
---
Thought for the Week
Posted October 20, 2012
In the liturgy our love for one another is merged with the love that Jesus has for the Father.  We are taken up into the mystery of the Blessed Trinity.  We become, in Pope Benedict's phrase, a "parable of communion".  The reality of God's communion with his beloved Son is dramatically expressed in our own worship: in our prayers, in our music, in our gestures of reverence and service; in our consecration of bread and wine in the sacrifice of Jesus; in our wanting to forgive and to be forgiven; in the effort we put into helping and inspiring each other: even in the material contributions we make to the church and the worthy celebration of the liturgy.  Our liturgy is the Trinity of divine Persons present and active among us.
---
Thought for the Week
Posted October 17, 2012
"The kingdom of God is righteousness, peace and joy in the Holy Spirit", St Paul says.  He then adds:  'The person who serves Christ in this way is pleasing to God and judged authentic by human beings."  Pleasing to God and judged authentic by human beings!  Be like that, and people will sense and feel that the Kingdom of God is close to them: for it is in your person. To proclaim the message of Jesus, we have to become that message before any words are spoken.
---
Thought for the Week
Posted October 15, 2012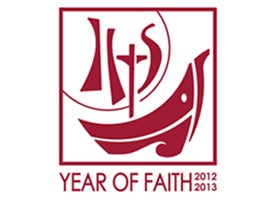 Increasingly, in a secular world, faith is seen as the eccentricity of a minority. Tony Blair said that he was reluctant to speak of faith in case people thought him nutty. And many Christians nowadays, especially the young, feel uneasy about their faith, or have doubts about it, or even abandon it, because it seems to put them out of step with the rest of humanity. I say: If you find it difficult to believe, then try hoping instead: and you will find faith as well. Hope is faith turned to the future and set ablaze with love. There is nothing nutty or alien about hope. Hope wells up from the deepest springs of your humanity: it is how you were made. You were made with a capacity for utter fulfilment and with an endless longing for it. Faith, as the 'substance of things hoped for', is the beginning of this fulfilment. The Year of Faith is about rediscovering the relevance of faith to being human now and in the ultimate future.
---